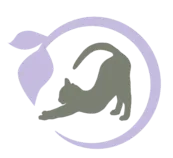 Welcome!
Completed December of 2021, the Cat Clinic is the realization of our long-held dream to create a quiet and welcoming space solely focused on feline wellness.
Some of the things we have done to better your experience and meet their unique needs:

Cat only clinic with separate entrance
Feliway diffusers in rooms and throughout the clinic. Feliway is a synthetic copy of the feline facial pheromone which help create a state of familiarity and security.
Ledges, perches, baskets, and hideaways to encourage cats to move freely around the exam rooms or find a place of comfort.
In-room weight scales
Gentle handling
New Cat Lodging- 2 level condos with a litterbox cubby and a sleeping/privacy cubby (Size demonstration found here)
AAHA Accredited Hospital
Doctors and staff have been certified in an immersive feline education program from the American Association of Feline Practitioners. The Cat Friendly Veterinary Professional (CFVP) Certification, educates and tests on understanding cats and feline behavior, reducing stress during the veterinary visit, feline-friendly handling and hospitalization, and how to make the routine wellness visit a positive experience for the cat and client. Including life stages, nursing and palliative care tactics to minimize stress, preventive care and risk assessment, parasitology and zoonotic disease, vaccination, and fluid therapy. Educations are tailored to the various roles of each of our staff.
Cat Clinic operating hours and days vary, visits are by appointment. Please call 913-829-7387 to schedule an appointment and find out more information.
Some things you can do you at home prior to your scheduled appointment to assist us giving them the best experience possible:
About 5 days prior to your visit, clean their carrier thoroughly and set it out in a space they enjoy.

Utilize Feliway spray or wipes on the inside of the carrier 4 hours prior to your visit. Feliway spray can be found here.

Add a favorite blanket of theirs to the bottom of the carrier for them to rest on during transport and the appointment. Familiar smells can have a calming effect for them.
We are excited to partner with you on this new journey!
Cat Clinic entrance is located at the southern end of our building, 15200 S. Blackbob Road, Olathe Kansas 66062.
Cat Condo size demonstration