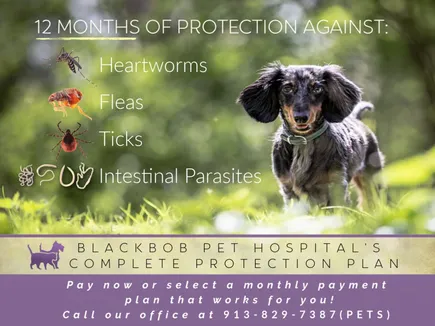 Enrolling in this package gives a savings of $60 per year!
This program is for dogs 6 months of age or older.
Complete Protection Plan Contract
Included in plan is as follows, for the duration of 1 year (365 days) from the signing date:
Simparica; Twelve chewable tablets that provide your pet with flea and tick prevention given by mouth once every 30 days. Rebates are available and recommended. Six tablets will be given at the initial signing, unless the package is paid in full at time of signing then 12 tablets may be sent.
Proheart; Two injections to be given six months apart for six months of lasting heartworm protection. Rebates are available and recommended. Appointments for Proheart injections must be kept within two weeks of the due date. If you do not keep these appointments, your pet will need another heartworm test and intestinal parasite test to receive Proheart again, all which will not be covered by the plan.
Heartworm test; One heartworm test to fulfill yearly requirement for patient to receive Proheart injections. First time Proheart patients will receive a second heartworm test during their second Proheart injection appointment, included in the plan and required by Proheart manufacturer.
Intestinal parasite testing; One fecal test, testing your pet's intestinal tract for parasites such as and not limited to: roundworms, hookworms and whipworms. If you have upheld the Proheart administration guidelines within the last six months with no parasites detected in that test prior to starting Proheart that time or within a year, intestinal parasite treatment and follow up re-testing for only the parasites listed above, is included.
Payment plan options are available for one, three, six or twelve consecutive payments. Payments will be set up as an automatic payment with Blackbob Pet Hospital on the same numerical day each month- specific day may be set upon request. The first payment will be made on the day the contract is signed.
Call (913) 829-7387 (PETS) for specific pricing and any questions you may have. We look forward to helping you enroll your dog in the Complete Protection Program!